ANNOUNCEMENT: Goatlings.com is currently down for maintenance before we reopen. We will be back soon! Thank you! :)
WELCOME

Come one, come all! Welcome to the Kingdom of Goatlings!

Goatlings is a free-to-play virtual pet site for all ages. Get your own lovable sidekick by adopting a virtual pet goat! Then name him, raise him, and train him! Play games, explore, and find treasure with your cute friend! Meet the interesting residences, challenge unruly baddys, interact with friends, open a shop, start a collection, and make your mark in the Goatlings world.

Discover unique foods, toys, books, and collectibles. Aide your Goatling with equipment and healing items. Explore beautiful and mysterious landscapes filled with treasure and, in more distant places; danger! Lure out rare, wild goats from these terrains. If you succeed at taming them you will obtain a valuable companion.
NEWEST GOATLING FOUND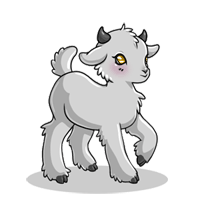 NEW ITEMS TO COLLECT







Featured HA Buddy
krisgoat
FUN FEATURES!
Free To Play
Adopt Goatlings
Change Their Look
Battle Center
Explore Area
Dress Up Avatar
User Shops
User Galleries
Bank With Interest
Restocking
Trades
Auctions
Quests
Forums
Live Chat
Display Name Icons
Club Houses
Lucky Boxes
Arcade
Shopping District
VIP Shops
Creative Park
Friendly Community
Super Cute
Ad Free